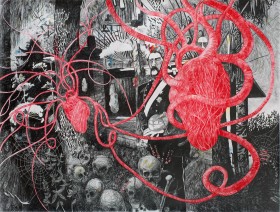 The Memory Palace @ Munch Gallery
Opening Reception: Sunday, September 8 from 6-8 pm
Exhibition runs September 8 through October 13, 2013
———————————————-
Munch Gallery is proud to announce Morten Schelde's Solo Exhibition 'The Memory Palace'.
The exhibiton features all new work – large scale and smaller work in series – centered around his signature pencil drawings. Since his graduation from The Royal Danish Academy of Fine Arts, Copenhagen, Denmark in 2001, Schelde has made a substantial impact on the Danish art scene by revisiting, rejuvenating and revising the art of drawing.
He has shown extensively in Europe in both galleries and museums, and the work is collected by prominent Danish museums. In 2009, he was asked to contribute to the refurbishment of the Frederik VIII's Palace of the Crown Prince and the Crown Princess at Amalienborg by creating a site-specific mural. Schelde lives and works in Copenhagen, Denmark, and is represented by gallery Susanne Ottesen.
This is the artist's first solo exhibition in the U.S., and he will be present to discuss his work on the opening reception night Sunday, September 8.
ARTIST STATEMENT
The images form a collection of memories – old and new. Memories of a life lived – past and present – as life unfolds for you and for me. I recall things, places, moods. I reassemble them, create new contexts, in new spaces. Memories revealed and concealed, associated and contrived to create new meanings.
How is memory defined? When does it become a memory? When is it mine, and when is it yours? The world is a world of images. They will touch upon your life, in your context which is different from mine. And yet we have the image in common. and the memory. The world is a shared vastness of visual impressions which flow through you and I. The memories are yours and mine, and ours.
For me, drawing is remembrance. Drawing is physical and a physical gesture. Drawing is a corporeal action. The drawing has a body – a form that is a result of me creating, and you contemplating. The drawing is my memory and me recollecting. And you observing, and you reflecting. Drawing is mirroring a before and a now – simultaneously, it is a memory created and the creation of a memory.
August, 2013
The exhibition is supported by the Consulate General of Denmark in New York
———————
Munch Gallery
245 Broome Street
New York, NY 10002
munchgallery.com
212.228.1600
646.209.5457
Flora Danica
A short film on my contribution to the Flora Danica art project – english subtitles: