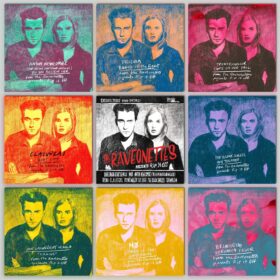 Album cover for The Raveonettes : Rip it Off
The Raveonettes released an album celebrating the 20th anniversary of their debut album.
This new verison features cover versions of the original eight songs. The songs are covered by artist such as Anton Newcombe, Glasvegas, Dave Gahan & Kurt Uenala, Mø, Brimheim, The Black Angels, Trentemøller and Prisma.
I did individual drawings for both digital singles and the album released on vinyl, as well as hand texting everything for the releases.
The album is out on Crunchy Frog Records.